Biography
Born in Hong Kong to a Danish mother and English father, I came to the UK while still a baby and grew up in Surrey. At age 13 I went to boarding school in Taunton and in my first year won the prize for "Technical Activities", (art, woodwork, metalwork, cookery etc.). I was already a serious photographer by this stage, but was encouraged to follow a more academic path and in 1986 went to Durham University. I graduated four years later, having spent a year living in Barcelona, with a respectable BA (hons) in Spanish, but no idea what to do with it.
Failing (through lack of enthusiasm) to get a job in the city of London I realised that I needed to find a more creative career and in 1993 opted to train as a chef. After stints in some of London's top restaurants (including Quaglino's and La Tante Claire) I concluded that it was an unsustainable career choice and would likely lead me to an early grave. There followed much soul-searching before I finally enrolled to study Engineering Product Design, at South Bank University.
Drawing was an important part of the course back then, and I enthusiastically developed my skills in sketch work, marker rendering and technical drawing. As an antidote to the stress and complexity of cheffing and engineering I also began painting in my spare time. After four years of studying by day and cooking in a restaurant by night I finally earned a BSc.
One of my first paintings: "Still life with ketchup" (Click to enlarge)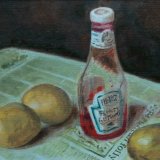 From 1998 until 2014 I enjoyed a career in engineering design, working with all kinds of industrial technology - lasers, CAD (Computer Aided Design), 3D printing, injection moulding etc. From 2001 I worked for MERU designing and manufacturing special equipment for disabled children. I helped to transform the work of the organisation with my quirky designs for disability products. The most significant, Bugzi - an electric wheelchair for pre-school children - won several industry awards and has been in production since 2005:
www.meru.org.uk/what-we-do/bugzi
. Bugzi was followed by a whole series of childrens' products distinguished by their bright colours and rounded, sculptural forms.
Bugzi (Click to enlarge)
By 2014 my work had become all about managing the manufacture and distribution of the range of products - a largely administrative role. I wanted to return to creative work but without the constraints and complexities of serial production, so I left MERU to paint full time. I now live with my family in west London and work from a studio built in the garage.